Tower To Tower - Finally Complete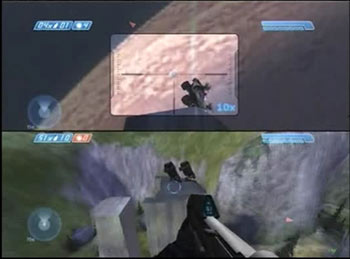 HIH must briefly awaken from cryo for an event like this...
In September of 2004, in the VERY early days of HIH, a strange and seemingly impossible challenge began to take shape. The idea was to attempt to perform a warthog/grenade launch from the top of a blue beam tower, and LAND the MC on the top of another blue beam tower (level Halo in the original game).
You can view the forum thread where it was first mentioned
by clicking here
.
This challenge has been attempted by many people and groups over the years, and has defeated them all. Shortly before HIH went into cryo, a resurgence of effort began to take place,
led mostly by MrMonopoly
. After the cryo, he continued his attempts,
documenting the effort
on the trick forums at
jumprs.org
.
In the last few days, he was
joined by Duelies
, who decided to make an attempt of his own. After coming
excruciatingly close
to landing it a couple of times, MrMonopoly was beaten to the punch by Duelies on Saturday.
The challenge is finally complete
. (Click for his forum thread, and video links)
Many (myself included) doubted that this challenge would ever be conquered. I'm happy to have our collective doubts proven wrong, and I couldn't think of a newspost more worthy to sit atop the front page of HIH indefinitely. The collaboration and effort of so many on a challenge like this epitomizes what is best about the Halo online community.
Please take time to watch the video, because Duelies took great care to include history, footage of past tries, his setup process (which is cool to watch on its own), and the final success launch and landing.
I'm including a few HIH mirrors of the video created by Duelies for archive purposes.
Full length mpg
(95 MB)
Full length mov
(95 MB)
Clip of launch and ending credits
(14 MB)
EDIT: MrMonopoly
completed the landing
as well! After all these years, two guys nail the challenge the space of a few days time. Amazing work.
EDIT 2: Here are mirrors for MrMonopoly's video:
mpg version
mov version